Package Forming Equipment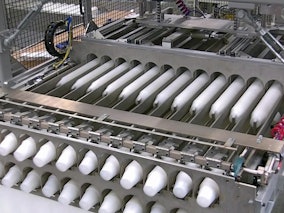 DJS Systems supplies trim press equipment used for the manufacturing of food service industry cups. Disposable food service packaging automation systems are carefully designed for the automatic product handling of stacks – whether it is cups, lids or other thermoformed product – directly from the trim press. DJS Systems, Inc. offers trim press automation systems that connect to the trim press up to 4 tier. There is also the option of changeover to other tool configurations. When the trim press reaches count, the rows of product are ejected into the trim press automation system (TPA).
See the Package Forming Equipment page on this company's website.
Types of Package Forming Equipment
Package Types:
Cup, Bowl or Tub