Case Packing Equipment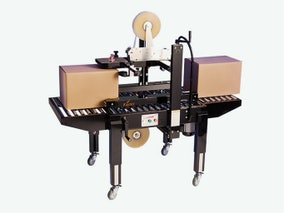 Eastey Enterprises' line of case packing equipment includes case erectors and sealers. The ERX-15 case erector from Eastey is designed to automatically erect and seal the bottom of cases at production rates up to 15 cpm, providing fast, efficient case erecting while providing an alternative to manual case forming. Sealing equipment ranges from the simple and effective BB-2 to the semi automatic uniform SB-2EX Auto. Eastey offers several models of uniform case tapers and the SB-2EX, a machine that handles random cases. Taping speeds for case sealing equipment can reach up to 30 cpm.
See the Case Packing Equipment page on this company's website.
Types of Case Packing Equipment
Case or Tray Erectors & Formers
Case Sealers
Features:
Automatic

Bottom load

Corrugated tray

Entry-level/budget models available

Horizontal/End/Side Load

Manual load

Semi-automatic

Tape

Vertical/Top/drop load
Package Types:
Carton (Folding)

Lined Case