Protective & Transport Packaging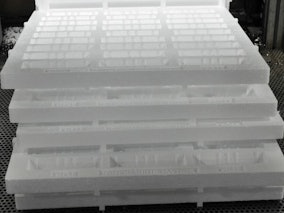 EFP works with a variety of expanded foam materials to ensure the protection of consumer products throughout the supply chain in addition to providing materials for cold chain solutions. Expanded polystyrene (EPS) is 100% recyclable and 98% air. Because it is lightweight and durable, EPS can be molded into almost any shape, used for protective and transport packaging for shock absorption, thermal insulation, compressive resistance and other applications. EFP also offers a wide range of standard molded and fabricated insulated shipping containers for cold chain solutions. EFP can manufacture molded and preassembled materials with the box of choice or fully kitted with the determined quantity of gel packs, gel bricks or PCMs required for product protection.
See the Protective & Transport Packaging page on this company's website.
Types of Protective & Transport Packaging
Corner Posts & Edge Protection
Cushioning
Temperature-Controlled Shipping
Transport Packaging
Void Fill & Dunnage