Food & Dry Ingredient Handling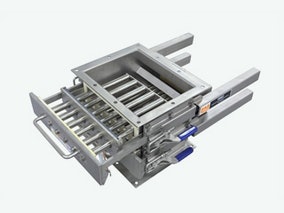 Eriez offers ingredient handling equipment including dry product feeders and magnetic separators. Eriez permanent magnetic separators, used in processing lines, require no electric power. With proper care, they can last a lifetime with very little loss of magnetic field strength. Eriez permanent magnets are supplied for a wide range of applications including dry bulk materials, liquids or slurries and even high temperature applications. Product line includes tube magnets, plate magnets, grate magnets, trap magnets, magnetic drum separators and more. The Eriez Xtreme RE7 magnet circuit is available in all Eriez tubes, grates and liquid line traps and is engineered for greater holding force and improved separation efficiency.
See the Food & Dry Ingredient Handling page on this company's website.
Types of Food & Dry Ingredient Handling
Dry Product Feeders
Magnetic Separators