Case Packing Equipment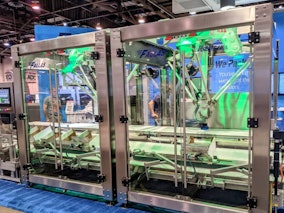 Fallas Automation supplies a range of case packing equipment including packers, sealers, and related equipment. The newly redesigned Fallas Adabot LV MKII is built to handle all of single stack, retail ready, vertical SUP, and lay-flat products all on one machine. Other featured case packing equipment from Fallas Automation's product line include the R400, which packs flexible bags, rigid and semi-rigid trays, cartons,, the G400 Case Packer, a gravity case packer, and the CS400 case sealer, one of the smallest footprints and available in tape or glue.
See the Case Packing Equipment page on this company's website.
Types of Case Packing Equipment
Case or Tray Erectors & Formers
Case or Tray Loaders
Case Sealers
Features:
Adhesive

Automatic

Bliss

IIoT ready

PackML controls architecture

Robotic

Robotic loading

RSC-pre glued

Tape

Tool-less changeover

Vertical/Top/drop load
Package Types:
Bag

Bag-in-box for Liquids

Blister Pack (Retail)

Brick Pack (Laminate)

Carton (Gabletop)

Chub Pack

Cup, Bowl or Tub

Flow Wrap

Lined Case

Overwrap

Portion Pack Cup

Pouch

Sachet

Sleeve

Stand-up Pouch

Stick Pack

Thermoformed Semi-rigid Pack

Thermoformed Vacuum Pack

Tray

Tube (Flexible)

Vacuum Shrink Pack

Vacuum Skin Pack