Food & Dry Ingredient Handling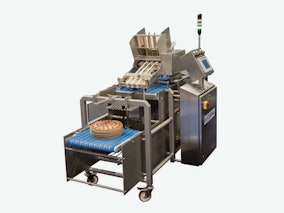 Forpak makes stackers using in processing and packaging operations for meat, pizza and baked goods. Stacker Model GSII, which stacks at a rate of 80 pieces per minute per lane, is designed for large products like pita bread and pizza crusts. Other automated stacking and laning, feeding, and conveying machines from Forpak handle products such as frozen meat patties.
See the Food & Dry Ingredient Handling page on this company's website.
Types of Food & Dry Ingredient Handling
Dry Product Feeders
Food Stackers/Destackers
Processing Conveyors/Conveyance
Features:
Automatic

Dry process

Hygienic (low-moisture)

Semi-automatic

Washdown (wet)

Wet process