Food & Beverage Processing Equipment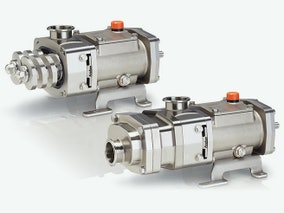 Fristam Pumps Company is a supplier of stainless steel pumps as well as sanitary mixers and blenders for the food processing industry. Fristam sanitary positive displacement pumps are designed for gentle, long lasting performance. Other pumps include centrifugal pumps and high-pressure centrifugals for Reverse Osmosis (RO) systems, filtration/ultrafiltration (UF), pressure feed, and recirculation applications. The Fristam Powder Mixer provides quick, high-performance blending of wet and dry ingredients into a fluid stream. Fristam's FS Shear Blender is designed to eliminate lumps, clumps, and fisheyes; wasted ingredients; and clogged filters.
See the Food & Beverage Processing Equipment page on this company's website.
Types of Food & Beverage Processing Equipment
Injectors & Vacuum Stuffers
Mixing & Blending Equipment