Case Packing Equipment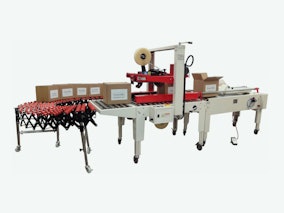 Garrido Printing Equipment is an original equipment manufacturer of several models of case packing equipment including case erectors and case sealers. Featured here is the Eco Tape Semiautomatic Case Former and Sealing Line, a combination of semiautomatic case erector (Model CE-10M), a semiautomatic case sealer (Model CS-TD) and a flexible conveyor that includes 8 legs with lockable castors. This system allows a single operator to form the case, fill and seal it. This economical solution was designed to save companies labor cost in the final packaging stages of their production.
See the Case Packing Equipment page on this company's website.
Types of Case Packing Equipment
Case or Tray Erect/Load/Seal (Integrated)
Case or Tray Erectors & Formers
Case Sealers
Features:
Manual

Semi-automatic

Tape