Food & Beverage Processing Equipment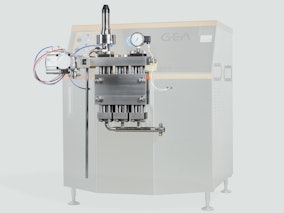 GEA supplies a wide array of dairy and liquid processing equipment including evaporation systems, homogenizers, centrifuges and separators, distillation systems, pumps and valves as well as heat exchangers, pasteurizers and deaeration systems. Featured liquid processing systems include the NiSoCLEAN 2.0 compression block for high pressure homogenizers and pumps, specifically conceived for the highest hygienic design in homogenization. GEA offers both mechanical vapor recompression (MVR), and thermal vapor recompression dairy evaporators. In addition, GEA offers numerous other industrial liquid processing systems, such as fermentation systems such as fermentation systems used in the bio-industry and the pharmaceutical industry, as well as the beverage and food industries.
See the Food & Beverage Processing Equipment page on this company's website.
Types of Food & Beverage Processing Equipment
Evaporators & Distillation Equipment
Filtration Equipment
Heat Exchangers
Homogenizers
Liquid Processing Components
Pumps, Valves, Fittings & Piping
Tanks, Vessels & Kettles