Food & Beverage Processing Equipment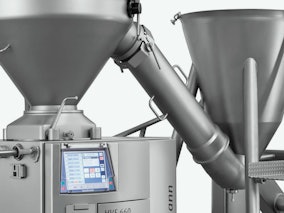 Handtmann is an original equipment manufacturer of a wide range of food processing equipment. Handtmann's mixing, emulsifying, batch cooking, portioning, dividing, depositing/dosing, grinding, sheeting, forming and filling equipment is used by meat, bakery, dairy and pet food processors. Featured machines include the Handtmann high vacuum filler (HVF) series for salami, cooked sausage, ham and other meat processing. Designed for thorough evacuation with gentle product handling, the HVF series features Intelligent Vacuum Management® that monitors the hopper vacuum level to ensure that all product is produced at its precisely specified vacuum set point.
See the Food & Beverage Processing Equipment page on this company's website.
Types of Food & Beverage Processing Equipment
Depositors
Forming & Extruding Equipment
Mixing & Blending Equipment
Raw Material Preparation Equipment
Slicing, Dicing, Cutting & Shredding Equipment
Features:
Hygienic (low-moisture)

Washdown (wet)