Pre-made Bag Loading & Sealing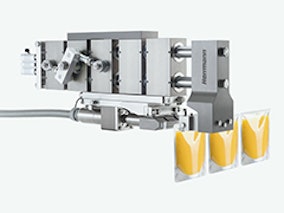 The TSM (Top Seal Module) from Herrmann Ultrasonics features a modular design that is configurable for a variety of packaging machine types, for applications including sealing of premade bags, stand up pouches and more. The pneumatic and electric drives can be adapted on the drive shaft. A mechanical connection with the main drive shaft of the packaging machine is also possible. The drive may be installed on either the left or the right side of the module, offering flexibility for multi-line systems.
See the Pre-made Bag Loading & Sealing page on this company's website.
Types of Pre-made Bag Loading & Sealing
Bag/Pouch Sealing Equipment
Features:
Automatic

Semi-automatic

Stand-up pouch