Pre-made Bag Loading & Sealing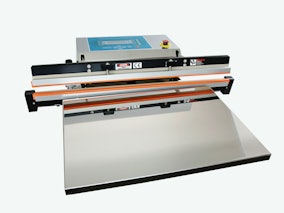 IMPAK offers an extensive line of sealing equipment, plus the ability to repair and upgrade existing machinery for better performance, and greater control. Choose from vacuum sealers, continuous band sealers, chamber vacuum sealers, portable handheld sealers and more. Select models come with a nitrogen flush option. Tabletop, clean room options available as well as free-standing machines with seal lengths up to 240 in. Featured bag sealers include the PVS Series - PneuVak Vacuum Sealers, which are industrial impulse vacuum sealers with gas flush option. Sealer features accelerated air-flow rate, precise seal settings, stored recipes, enhanced safety features and convenient step-operation.
See the Pre-made Bag Loading & Sealing page on this company's website.
Types of Pre-made Bag Loading & Sealing
Bag Loading, Filling & Sealing
Bag/Pouch Sealing Equipment
Vacuum Packaging
Features:
Manual

Semi-automatic

Vacuum packaging
Package Types:
Bag

Pouch

Vacuum Shrink Pack