Packaging Inspection Equipment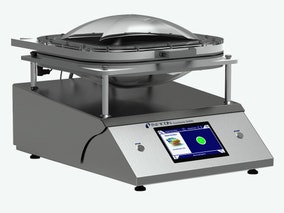 The innovative Contura S-series seal tester offers manufacturers of food packaging machines a unique solution for seal inspection in MAP (modified atmosphere packaging) and other packages in accordance with DIN EN 1779 and in close resemblance to ASTM F2338-09. It can detect gross leaks as well as fine leaks undetectable by the naked eye or by the water bath method (also known as "bubble test"). The unique technology of Contura can detect any leak (not only seal damage) without the need for tracer gas and at the same time without damage to the package.
See the Packaging Inspection Equipment page on this company's website.
Types of Packaging Inspection Equipment
Package Integrity Testing
Package Types:
Bag

Blister for Tablets

Cup, Bowl or Tub

Flow Wrap

Large Bag

Portion Pack Cup

Pouch

Sachet

Stand-up Pouch

Stick Pack

Thermoformed Semi-rigid Pack

Thermoformed Vacuum Pack

Tray

Vacuum Shrink Pack

Vacuum Skin Pack