Case Packing Equipment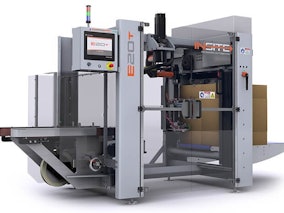 INSITE's case erectors and case sealers are designed to respect vital resources: time, budget and operator safety. Engineered for simplicity, reliability, effortless setups, and quick and trouble-free changeovers, INSITE case erectors feature Rockwell-controlled robotic pick-and-pass mechanisms, 40 to 50 percent fewer parts than competing machines, dependable opposing-cup case opening design and active case squaring for square cases. INSITE case sealers boast a clean, minimalist design, despite having numerous functions and features designed to improve the overall case sealing process for customers. Standard features on INSITE case sealers include major flap control, touchscreen controls, full-length guard doors, tilt-accessible tape heads and spring-loaded side belts.
See the Case Packing Equipment page on this company's website.
Types of Case Packing Equipment
Case or Tray Erectors & Formers
Case Sealers
Features:
Automatic

Bottom load

Robotic

Tape