Packaging Inspection Equipment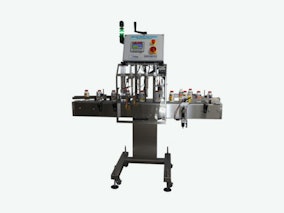 Kaps-All distributes the AM-DA Quality Control Center from AutoMate Technologies. This diagnostic inspection center allows for non-contact/non-destructive testing and rejection of containers for multiple specifications in one center. Standard features include bottle counter and rate meter module, conveyor speed monitor with encoder and alarm module, and missing cap detector module.
See the Packaging Inspection Equipment page on this company's website.
Types of Packaging Inspection Equipment
Cap, Lid & Flap Detection
Cap Torque Testing
Fill Level Inspection
Thermal Scanners
Vision Inspection Systems
Features:
Automatic

Entry-level/budget models available

Offline

Online
Package Types:
Ampoule or Vial

Bag-in-box for Liquids

Blister for Tablets

Bottle or Jar

Can or Canister

Carton (Folding)

Carton (Gabletop)

Cartridge

Chub Pack

Clamshell

Cup, Bowl or Tub

Portion Pack Cup

Sleeve

Tray

Tube (Flexible)

Vacuum Skin Pack