Food & Dry Ingredient Handling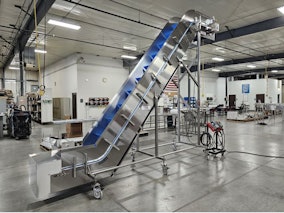 Keenline offers a line of super-sanitary designed conveyors for handling raw food and raw materials. In addition to its standard stainless steel conveyor lines, Keenline offers these custom designed conveyors to meet all raw food and food conveyance needs. Keenline builds a wide range of z-incline and z-decline conveyors that are easy to clean and clean in place products. USDA, FDA, 3A, meat, dairy, etc.) are all available design specifications upon request.
See the Food & Dry Ingredient Handling page on this company's website.
Types of Food & Dry Ingredient Handling
Processing Conveyors/Conveyance
Features:
Dairy 3A

Dry process

Hygienic (low-moisture)

Washdown (wet)

Wet process