Capsules, Tablets & Soft Gelatin Equipment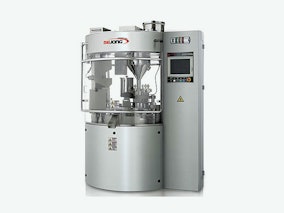 Key International supplies a product line that include various models of capsule, tablet and softgel manufacturing equipment designed for the pharmaceutical, nutritional supplement and food industries. Key International distributes Sejong Pharmatech capsule fillers, with production ranges from 40,000 capsules/hour to 150,000 capsules/hour for powders and 31,500 capsules/hour to 105,000 capsules/hour for pellet filling. Other equipment distributed by Key International includes capsule polishers, softgel encapsulation machines, tablet presses, tablet coaters and dedusters and many other related processing machines.
See the Capsules, Tablets & Soft Gelatin Equipment page on this company's website.
Types of Capsules, Tablets & Soft Gelatin Equipment
Capsule Filling & Sealing Machines
Soft Gelatin Capsule Equipment
Tablet Manufacturing Equipment