Case Packing Equipment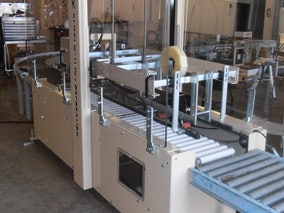 Klippenstein Corporation is an OEM of numerous case/tray forming, case erecting and case sealing machines. K730HM and K730TH are fully automatic top-only case sealing machines running RSC or FOL style cases at 20 cases/min. K400HM and K400TH are semi-automatic, bottom-only RSC case sealing machines, featuring a crank adjust for quick changeover.
See the Case Packing Equipment page on this company's website.
Types of Case Packing Equipment
Case or Tray Erectors & Formers
Case Sealers
Features:
Automatic

Bottom load

Semi-automatic

Vertical/Top/drop load