Food & Beverage Processing Equipment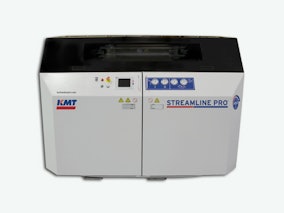 KMT Waterjet Systems designs and builds water jet systems used to cut a variety types of food including pizza, cakes, romaine lettuce, celery, meats, frozen fish, bacon, sandwiches, petit fours, candy bars, granola bars and all types of frozen food. Pure water cutting up to 90,000 PSI/6,200 bar offers the added value by cutting produce, meats, bakery, and confection products in a sanitary environment without the cross contamination found in blade cutting systems.
See the Food & Beverage Processing Equipment page on this company's website.
Types of Food & Beverage Processing Equipment
Slicing, Dicing, Cutting & Shredding Equipment