Food & Dry Ingredient Handling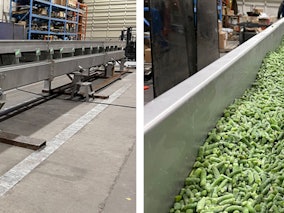 Layton Systems specializes in conveyors and feeding systems for the food processing industry. Its new Lane Mega Superflow Vibratory Conveyor combines a hybridized design of two existing Layton Systems conveyor technologies – the Super Flow and Triathlon. New conveyor has the ability to create long conveyors similar to the Layton Systems Triathlon and using the Layton System's Super Flow's two eccentric drives to move product. With this dynamically balanced vibratory conveyor, material is conveyed along the trough in a rapid succession of short hops by the vibratory action of the conveyor. The vibration is generated by a pair of counter-rotating electric motors with unbalanced shafts. The motors (vibrators) synchronize as they come up to speed to produce straight-line motion in the trough.
See the Food & Dry Ingredient Handling page on this company's website.
Types of Food & Dry Ingredient Handling
Dry Product Feeders
Processing Conveyors/Conveyance
Features:
Hygienic (low-moisture)

Washdown (wet)