Controls, Software & Components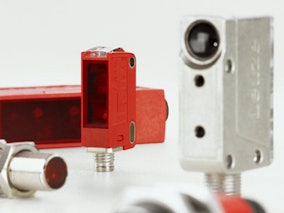 Leuze electronic, Inc. specializes in sensors used in processing, primary packaging and secondary packaging/end-of-line applications for a wide variety of operations, from beverage filling, pharmaceutical and meat packaging to confectionery and bakery production. Product line includes sensors for specific functions including measuring, safety, identification, network and connection technology, optical data transmission, industrial image processing, and accessories. For example, on a beverage filling line, Leuze's 3C and 18B series clear-glass sensors employ an integrated tracking function designed to eliminate system downtimes caused by increased soiling. Engineered for use in wet applications, these sensors are watertight and robustly withstand the permanent cleaning processes.
See the Controls, Software & Components page on this company's website.
Types of Controls, Software & Components
Instrumentation, Sensors & Actuators
Machine & Electrical Components