Pre-made Tray/Cup/Bowl Packaging Equipment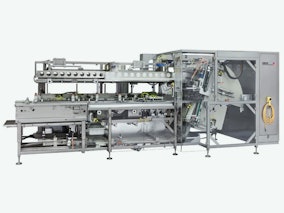 Use tray loaders and tray loading machines from LoeschPack to point dry baked goods in the right direction, quickly and gently, straight into tray packaging. Loesch's patented LOKEM tray loading system is designed for fully automatic filling of confectionery and dry baked goods products such as biscuits, cookies and chocolates into single and multi-rowed trays. Primarily used to handle delicate products with large dimensional and shape tolerances, LOKEM packs at speeds of up to 800 products/min. The products can be arranged in the tray standing on edge, in flat or shingled position according to requirement.
See the Pre-made Tray/Cup/Bowl Packaging Equipment page on this company's website.
Types of Pre-made Tray/Cup/Bowl Packaging Equipment
Denest/Fill/Seal (Integrated)
Product Loading into Trays, Cups & Bowls
Package Types:
Tray