Packaging Inspection Equipment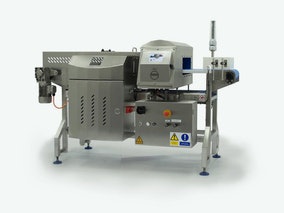 Loma Systems designs and manufactures a wide range of metal detection, X-ray inspection, checkweigher and combination inspection systems for the food, pharmaceutical and packaging industries. LOMA's inspection systems identify product defects and eliminate contaminants, delivering consistent quality and are compliant with international safety standards and Retailers' Codes of Practice. The IQ3+E Metal Detector range is designed for conveyorized, pumped and gravity fed applications for meat, poultry and fish, bakery, convenience foods, snacks and more. X-ray systems include the X5C, LOMA's smallest X-ray system available, with a machine length of 1000 mm and excellent Critical Control Point (CCP), designed for inspecting food, ready meals and small packaged goods. Loma's CW3 RUN-WET® checkweigher is engineered to withstand harsh, high-pressure, high-temperature cleaning regimes in high-care food environments. Loma's integrated combination systems offer inspection and weighing all in one machine, with the option of a system combining either metal detection or X-ray inspection capabilities along with dynamic checkweighing.
See the Packaging Inspection Equipment page on this company's website.
Types of Packaging Inspection Equipment
Checkweighers
Metal Detectors
X-Ray Systems
Features:
Automatic

Entry-level/budget models available

Offline

Online
Package Types:
Bag

Blister for Tablets

Blister Pack (Retail)

Bottle or Jar

Brick Pack (Laminate)

Can or Canister

Carton (Folding)

Carton (Gabletop)

Chub Pack

Clamshell

Cup, Bowl or Tub

Flow Wrap

Large Bag

Portion Pack Cup

Pouch

Sachet

Stand-up Pouch

Stick Pack

Thermoformed Semi-rigid Pack

Tray

Tube (Flexible)

Vacuum Shrink Pack

Vacuum Skin Pack