Food & Beverage Processing Equipment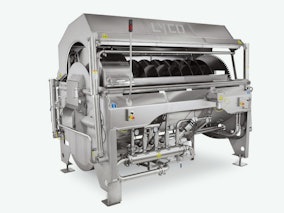 Lyco Manufacturing Inc. manufactures a wide range of food processing equipment including blanchers, cookers, and coolers. In addition, Lyco supplies peeler/washer/scrubber equipment and specialized green bean processing equipment. Featured in Lyco's food processing equipment line are the Clean-Flow® Blanchers, developed to address the need for faster sanitation cleanup time so that prepared meal operations could run many different products in a day; the Clean-Flow in Place System can clean over 98% by itself. Chill-Flow™ Pouch Coolers are used for cooling many different pouch sizes of sauces, pizza sauce, chowders, and soups. Coolers are designed to eliminate pouch/product damage, cool thoroughly and uniformly and improve the quality and shelf life of products.
See the Food & Beverage Processing Equipment page on this company's website.
Types of Food & Beverage Processing Equipment
Chillers, Freezers & Cooling Equipment
Raw Material Preparation Equipment
Slicing, Dicing, Cutting & Shredding Equipment
Features:
Hygienic (low-moisture)

Washdown (wet)

Wet