Food & Beverage Processing Equipment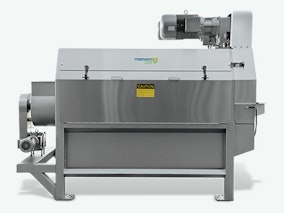 Magnuson CCM supplies vegetable, fruit, nut, and meat processing machinery. Machinery includes peelers, vegetable feeders and corn processing equipment. Three Magnuson Trough Belt Feeder models can be used in versatile applications for processing cucumbers, carrots, zucchini, squash, potatoes, okra, onions, celery, rhubarb, chives and more. WSP Scrubber/Peelers are designed for high-capacity vegetable processing applications. The Magnuson CCM Automatic Corn Cutter is a self-contained production machine, where units are flexible enough to fit existing cutting room with little to no modification of existing conveyors.
See the Food & Beverage Processing Equipment page on this company's website.
Types of Food & Beverage Processing Equipment
Raw Material Preparation Equipment
Slicing, Dicing, Cutting & Shredding Equipment
Features:
Automatic

Dry process

Semi-automatic

Wet