Pre-made Bag Loading & Sealing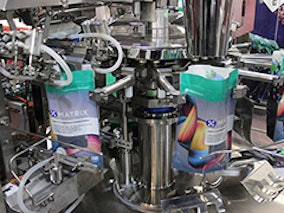 Matrix is the master distributor of machines from Pacraft (formerly Toyo Jidoki). The Pacraft line of automated pre-made pouch packaging systems is designed to efficiently load, open, fill and cap pouches. Suitable for both liquid and non-liquid applications in several models, these pre-made pouch systems are designed to produce a precise and dependable seal. Wide ranging product line includes the TT-8D-N, offers flexible pouch filling options for various pouch formats as well as dry or frozen products and the TT-8A2, designed for filling/sealing larger pouches with widths between 180 and 320 millimeters and lengths between 140 and 400 millimeters.
See the Pre-made Bag Loading & Sealing page on this company's website.
Types of Pre-made Bag Loading & Sealing
Bag Loading, Filling & Sealing
Bag/Pouch Sealing Equipment
Vacuum Packaging
Features:
Automatic

Fitment

Heat seal

Hot fill

Hygienic (low-moisture)

Intermittent motion

Liquids

Multi-lane

Portion pack

Powder

Quad-seal bags

Rotary

Stand-up pouch

Two-stage filling

Washdown (wet)

Zipper
Package Types:
Bag

Stand-up Pouch