Feeding & Inserting Equipment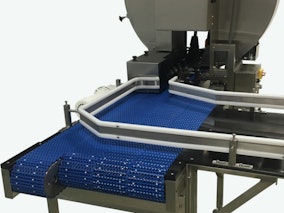 The 4-Belt Unscrambler from McBrady Engineering uses three progressively moving belts to separate bottles, while the fourth reverse belt prevents jamming by removing excess bottles. It can be sold in conjunction with a McBrady Engineering bottle cleaner or sold separately to integrate into an existing bottle line.
See the Feeding & Inserting Equipment page on this company's website.
Types of Feeding & Inserting Equipment
Orienting/Unscrambling Machines
Package Types:
Bottle or Jar