Package Forming Equipment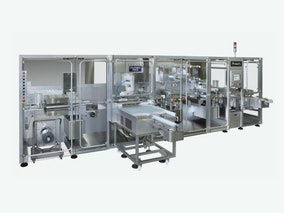 MG America distributes thermoforming equipment used in the pharmaceutical industry, such as the Farmo Res Prima K7, a modern, automatic, deep-draw thermoforming machine range with balcony constructed frame and servo-motor driven design for syringe, vial and ampoule packaging in laminated plastic materials. Main features include compact frame, automatic positioning of sealing plates, perforation and cutting station, operator side reel loading, fast adjustment of the forming clamps, and improved design to minimize space around loading area. Machines are capable of thermoforming depth up to 40 mm and speeds of up to 35 cycles/minute.
See the Package Forming Equipment page on this company's website.
Types of Package Forming Equipment
Package Types:
Bottle or Jar

Cartridge