Food & Beverage Processing Equipment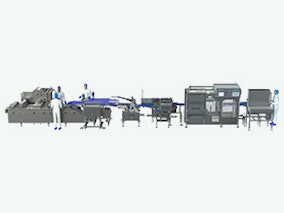 Middleby Food Processing provides a broad portfolio of bakery and protein processing solutions and advanced technologies, with a specialty in equipment for processing/preparation, thermal processing, slicing, packaging and loading as well as industrial baking. Middleby Food Processing offers complete, turnkey lines and integrated equipment designed to achieve the highest level of food quality, product consistency, and reduced operating costs. Increase product yields, capacity, and throughput with reduced labor costs through automation.
See the Food & Beverage Processing Equipment page on this company's website.
Types of Food & Beverage Processing Equipment
Chillers, Freezers & Cooling Equipment
Coating, Enrobing, Seasoning & Decorating Machines
Fermenters & Reactors
Food Processing Accessories & Components
Forming & Extruding Equipment
Grading & Sorting Equipment
Mixing & Blending Equipment
Ovens, Dryers & Fryers
Raw Material Preparation Equipment
Robotic Processing Equipment
Slicing, Dicing, Cutting & Shredding Equipment
Features:
Automatic

CIP

Dry process

Hygienic (low-moisture)

Washdown (wet)

Wet