Food & Beverage Processing Equipment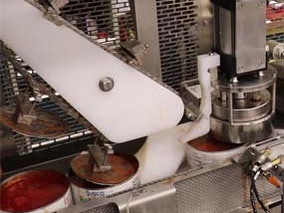 Morrison Container Handling Solutions supplies can opening systems for food processing lines that help standardize the canning process while increasing return on investment for processors. Infeed timing screws allow customers to process cans at a high speed while reducing labor demands. These heavy-duty stainless-steel systems are wash-down friendly and provide complete processing functionality in a single operator station: feeding, washing, opening, dumping, rinsing and can crushing. Once the cans are fed through the screws and opened, they are processed through Morrison's fully equipped dump stations. Each dump station is configured to flow into the elevated can twist and chute, emptying the contents of the can. Once the can is inverted, the elevated twist chute vibrates to ensure all contents make it into the dump area which has a magnetic grate to collect excess metal shavings. Fixed nozzles wash out the cans before they enter the crusher.
See the Food & Beverage Processing Equipment page on this company's website.
Types of Food & Beverage Processing Equipment
Mixing & Blending Equipment
Raw Material Preparation Equipment