Pallet Conveying, Dispensers & Slip Sheets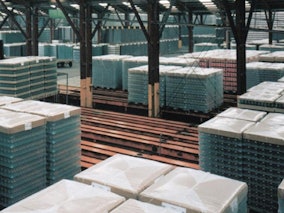 MSK specializes in pallet conveyors, with specialty machine lines for a range of industries: glass bottle and PET bottle pallet conveying for glass plants and beverage producers, paper and printing industry pallet conveyors, pallet conveyors for the chemical industry, as well as pallet conveyors for logistics centers and household appliances. The comprehensive MSK Transtech product program – including roller, chain, plate pallet conveyors – offers stationary pallet conveyor systems for almost all applications, pallet formats and running directions in the beverage industry. These pallet conveyors are designed for maximum work loads and continuous operation.
See the Pallet Conveying, Dispensers & Slip Sheets page on this company's website.
Types of Pallet Conveying, Dispensers & Slip Sheets
Pallet Conveyors & Turntables