Food & Dry Ingredient Handling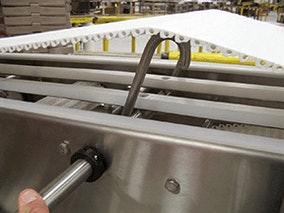 Multi-Conveyor's sanitary conveyors feature stainless steel construction and are built to food industry and plant specific needs for sanitation or food safety requirements. Conveyors for food and beverage processing, UL approved with UL certified controls design, are engineered to be effective, easy-clean and wash down. Most agency compliant designs (USDA, WDA, AMI, FDA, 3A, meat, dairy, BISSC, etc.) are available on request. Several frame designs have a variety of features such as clean out ports, spray nozzles, lift up belt, lift out carry way and return way. Standard sanitary features on Multi-Conveyor's processing conveyors include spaced off frame components, sanitary supports and washdown resistant power transmission components.
See the Food & Dry Ingredient Handling page on this company's website.
Types of Food & Dry Ingredient Handling
Processing Conveyors/Conveyance
Features:
Dairy 3A

Dry process

Hygienic (low-moisture)

Washdown (wet)

Wet process