Food & Dry Ingredient Handling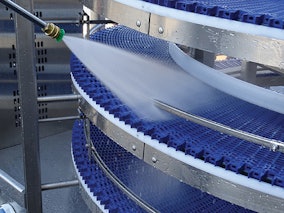 Nercon ensures optimum food-safety standards are met with sanitary conveyors designed to perform under the most demanding production environments reducing inspection issues and recalls. Featured systems include the Sanitary Z Incline Conveyor. Easy to maintain and easy to clean, Nercon's Sanitary Z Incline Conveyors are systems that utilize a horizontal-incline-horizontal configuration and can be ceiling suspended, on casters or mounted to the floor. Available in a variety of hygienic flights, scoops and synchronized sidewalls, the sanitary Z incline conveyor carries loose, bulk wrapped or unwrapped products between floors, machines and processes.
See the Food & Dry Ingredient Handling page on this company's website.
Types of Food & Dry Ingredient Handling
Processing Conveyors/Conveyance
Features:
Dry process

Hygienic (low-moisture)

Washdown (wet)

Wet process