Controls, Software & Components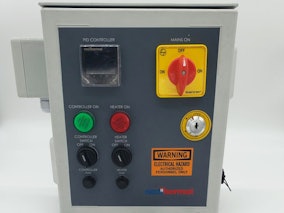 Nexthermal supplies industrial thermal controllers that are equipped with an IP-66/NEMA 4X-rated enclosure. Specialist in designing efficient heaters and heating elements that maximize the capability of customer machines and applications, Nexthermal has created its own single zone controller. Temperature controller features advanced PID with RS-485 input with output to USB, an easy plug-and-play design for quick installation, a white PV display with LCD screen for improved visibility and a universal input which supports most standard TC/RTD/linear outputs. In addition, Nexthermal's product line of temperature sensors help manufacturers monitor the temperature of equipment in order to prevent problems such as overheating or inadequate cooling. The food and beverage industry also use temperature sensors extensively to monitor and maintain the required temperatures for its products.
See the Controls, Software & Components page on this company's website.
Types of Controls, Software & Components
Controllers & I/O
Instrumentation, Sensors & Actuators
Machine & Electrical Components