Case Packing Equipment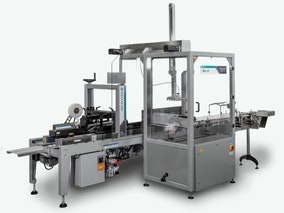 NJM Packaging offers case packing equipment and can integrate a full packaging line with the right packer for the end user's project. The Cumulus™ SLPP-15 case packer system is a semi-manual system designed for end-of-line automation featuring a small footprint with ready to integrate cameras for serialization aggregation. SERPA case packer machine line-up features the same balcony design with full walk-in access. All of NJM's case and tray packers feature the Easy Case Clear-Out feature.
See the Case Packing Equipment page on this company's website.
Types of Case Packing Equipment
Case or Tray Erect/Load/Seal (Integrated)
Case or Tray Erectors & Formers
Features:
Automatic

Horizontal/End/Side Load

Robotic

Robotic loading

Semi-automatic

Vertical/Top/drop load
Package Types:
Bottle or Jar

Carton (Folding)