Food & Beverage Processing Equipment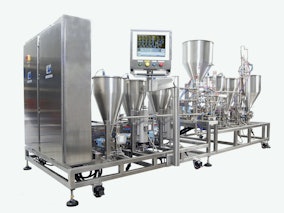 Designed as a continuous stream digital blending system, MASS/BLEND is used in applications ranging in scale from pilot plant to production environments for blending liquid food and other products. The MASS/BLEND system design eliminates many of the problems associated with large liquid batch preparation and is designed to provide more compounding flexibility, faster product turnarounds, shorter practical run capabilities, and superior product quality.
See the Food & Beverage Processing Equipment page on this company's website.
Types of Food & Beverage Processing Equipment
Mixing & Blending Equipment