Package Forming Equipment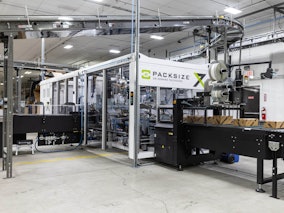 Packsize offers a range of box making machines tailored for right-sized cases and boxes, providing on-demand packaging solutions suitable for e-commerce and other packaging applications. Packsize's X7 automated boxing system is designed to enhance efficiency by effectively sizing, folding, and manufacturing boxes to optimize packaging operations. Packsize brands the compact-sized X5 "as the world's first fully automated erected box system." Designed to transform high-volume order production, the X5 machine combines production stability with efficient packaging throughput and accommodates both "box first" and "box last" production methods at competitive speeds. The EM7 system is engineered to offer versatile flexibility for optimal On Demand Packaging® outcomes, easily adapting to products of various sizes and shapes. The IQ3 machine is a custom box-making machine with advanced intelligent automation features and innovations designed to help retailers and brands elevate their packaging processes.
See the Package Forming Equipment page on this company's website.
Types of Package Forming Equipment
Package Types:
Carton (Folding)

Tray