Package Forming Equipment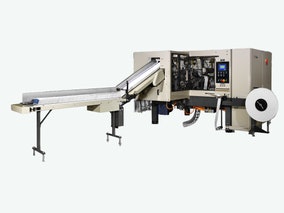 PMC's servo-driven paper cup and container forming machines are designed for flexibility, speed, low maintenance and affordable capital cost. The newest model, PMC 2001S, features improved ergonomics, increased efficiencies and tooling changeover within an eight-hour shift. It produces 4- to 22-oz. tapered cups and containers at speeds up to 240 cpm. The PMC 2500S is the larger framed machine that forms cups and containers ranging from 4 to 46 oz. at 170 cpm, depending upon configuration. Servo drives on both models work independently to control each station accurately and work together to coordinate the synchronized motion.
See the Package Forming Equipment page on this company's website.
Types of Package Forming Equipment
Package Types:
Cup, Bowl or Tub