Food & Dry Ingredient Handling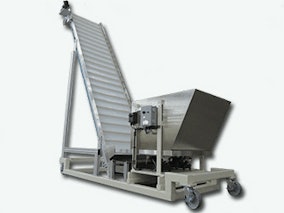 Performance Feeders supply conveyors for food processing applications, including a custom bulk storage and elevator system. This system was designed for a food manufacturer who needed to move a whole-grain snack product to a packaging operation, which required the product to be delivered 10 ft. off the floor. The manufacturer needed bulk product storage at floor level and a way to remove as much small and broken pieces of product as possible before moving into the packaging operation.
See the Food & Dry Ingredient Handling page on this company's website.
Types of Food & Dry Ingredient Handling
Processing Conveyors/Conveyance
Features:
Dry process

Hygienic (low-moisture)

Washdown (wet)

Wet process