Feeding & Inserting Equipment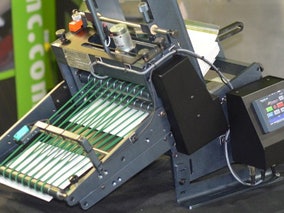 Pineberry Manufacturing supplies several models of friction feeders used for automatically loading products, product literature (i.e., booklets, leaflets) and flat media (i.e., zipper pouches, envelopes, die-cut specialty pieces) into packages. Friction feeders are used with folding machines, vacuum conveyors, collation systems, printing machinery, vertical carton insertion, flat desiccant feeding and much more. The HSF series handles a variety of applications in widths up to 28 inches. Company can integrate its optional Pineberry Autoloader to automatically load the HSF Friction Feeder with products and flat media.
See the Feeding & Inserting Equipment page on this company's website.
Types of Feeding & Inserting Equipment