Case Packing Equipment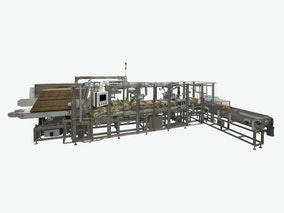 PMI Kyoto is an original equipment manufacturer of side-load case packers. Company's product line of RSC and wraparound case and tray packers is versatile for a wide range of product applications and packaging types. RSC case packers handle products in a continuous motion, featuring a gentle pick-and-place collation system that efficiently stacks products, with servos used to ensure precise case forming and indexing. Wraparound case packers reduce the amount of carton overlap to achieve a tighter fit around your product, resulting in stronger, more efficient cases. Systems employ Nordson hot melt glue system with the servo drives for smooth case handling, consistent case closing, and accurate sealing of up to 30 cases/min.
See the Case Packing Equipment page on this company's website.
Types of Case Packing Equipment
Case or Tray Erect/Load/Seal (Integrated)
Case or Tray Erectors & Formers
Features:
Automatic

Horizontal/End/Side Load

RSC-pre glued

Semi-automatic

Wraparound
Package Types:
Bag

Carton (Folding)

Flow Wrap

Lined Case

Pouch

Sachet

Stand-up Pouch

Stick Pack