Pre-made Tray/Cup/Bowl Packaging Equipment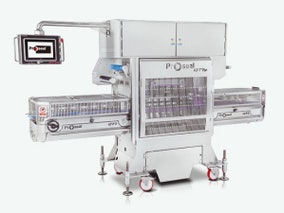 Proseal America offers a wide array of semi-automatic, automatic, and manual inline tray sealing machines, ranging from gash flushing systems for produce to tray sealers for ready meals, sandwich packaging and MAP applications. Proseal's other machine capabilities include atmospheric seal, hermetic shrink, vacuum/gas and skin pack. Featured tray sealers are the GT1s, an automatic, large-capacity, high speed, pre-made in-line tray sealing system designed to cut labor costs running up to 80 packs/min. The GTOe is an automatic, medium capacity, inline tray sealing system for applications such as filling trays with pork products at speeds of up to 36 packs/min.
See the Pre-made Tray/Cup/Bowl Packaging Equipment page on this company's website.
Types of Pre-made Tray/Cup/Bowl Packaging Equipment
Product Loading into Trays, Cups & Bowls
Tray, Cup & Bowl Sealing
Features:
Automatic

Controlled atmosphere packaging

Inline

Manual

Modified atmosphere packaging

Pilot/lab

Semi-automatic

Vacuum packaging
Package Types:
Clamshell

Cup, Bowl or Tub

Tray