Food & Beverage Processing Equipment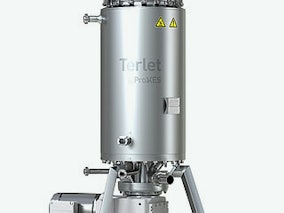 ProXES offers processing equipment from the FrymaKoruma, Stephan, and Terlet brands for the food, pharmaceutical, cosmetics, and chemical processing industries. The brands supply equipment for processes like cooling, crystalizing, deaerating, emulsifying, homogenizing, particle size reduction, pasteurizing, sterilizing, vacuum gasing/cooling, and evaporating. The Stephan SAM® aseptic multifunctional processing unit is ideal for cooking applications like baby/senior food, purees, classic sauces, soups with particles, prepared fruit, and desserts. ProXES brands also provide modular line and batch concepts for liquid and liquid food processing with precise ingredient dosing, efficient grinding, equal temperature control, and deaeration for better shelf life. Machines can handle products with low to high viscosities and range from tanks, vessels, and evaporators to homogenizers. The Terlotherm scraped surface heat exchanger is a featured product that gently transfers heat for food and non-food products that require it due to consistency, viscosity, or product damage prevention.
See the Food & Beverage Processing Equipment page on this company's website.
Types of Food & Beverage Processing Equipment
Chillers, Freezers & Cooling Equipment
Evaporators & Distillation Equipment
Heat Exchangers
Homogenizers
Milling & Grinding Equipment
Mixing & Blending Equipment
Ovens, Dryers & Fryers
Retort & Sterilization
Slicing, Dicing, Cutting & Shredding Equipment
Tanks, Vessels & Kettles
Features:
Aseptic

Automatic

CIP

Dry process

Semi-automatic

Skid-mounted

Washdown (wet)

Wet

Wet process