Case Packing Equipment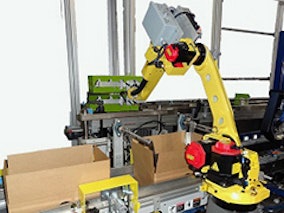 Remtec's custom automated robotic case packing systems run at speeds from 5 to 240 ppm. Designed to improve the speed and flexibility of packaging operations, Remtec's case packing robots feature highly reliable case erectors and sealers, which are available in a wide range of tape-seal and glue-seal configurations. In addition, Remtec's case handling conveyors and flap management systems are designed for maximum reliability and adjustability over a wide range of SKU's. Robotic packing systems are all equipped with standard Allen-Bradley controllers, which eliminate the need for robot programming expertise on the packaging floor. A simple touch screen operator interface is provided so that the system can be operated without specialized training.
See the Case Packing Equipment page on this company's website.
Types of Case Packing Equipment
Case or Tray Erect/Load/Seal (Integrated)
Case or Tray Erectors & Formers
Case or Tray Loaders
Case Sealers
Features:
Adhesive

Auto load

Automatic

Corrugated tray

Entry-level/budget models available

Horizontal/End/Side Load

IIoT ready

Pad/partition inserters/dispensers

Robotic

Robotic loading

RSC-pre glued

Tape

Tool-less changeover

Vertical/Top/drop load
Package Types:
Ampoule or Vial

Bag

Blister Pack (Retail)

Bottle or Jar

Brick Pack (Laminate)

Can or Canister

Carton (Folding)

Cartridge

Chub Pack

Clamshell

Cup, Bowl or Tub

Flow Wrap

Lined Case

Overwrap

Portion Pack Cup

Pouch

Sachet

Sleeve

Stand-up Pouch

Stick Pack

Thermoformed Semi-rigid Pack

Thermoformed Vacuum Pack

Tube (Flexible)

Vacuum Shrink Pack

Vacuum Skin Pack