Pre-made Bag Loading & Sealing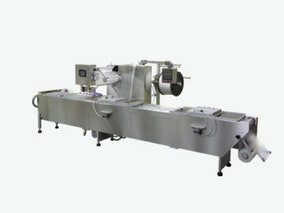 Rollstock offers vacuum chamber bagging equipment including the RM-100, a vacuum packaging system that, at just over 6-ft long, fits in the smallest of spaces offering standard web widths of 420mm and 459mm. Other vacuum chamber machines include the RC-300 Rotary Chamber system, featuring water-cool hold down, continuous temperature sealing and rates at 25 packages/min. It is designed to seal through any bag thickness or crease. In addition, Rollstock offers the RZ-200, pre-made bag equipment for resealable zipper bagging operations, with zipper technology by Pro-Pac Services.
See the Pre-made Bag Loading & Sealing page on this company's website.
Types of Pre-made Bag Loading & Sealing
Bag Closing Equipment
Bag Loading, Filling & Sealing
Bag/Pouch Sealing Equipment
Vacuum Packaging
Features:
Automatic

Quad-seal bags

Semi-automatic

Stand-up pouch

Tri-seal bags