Food & Dry Ingredient Handling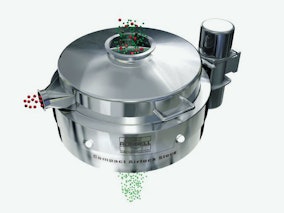 In addition to its line of liquid-solid separators, Russell Finex offers screening and separating equipment and dust collection systems used in food and pharmaceutical processing, including several models of check screeners. Russell Finex's check screeners range from vibrating sieves and pneumatic sieving machines to industrial sifters of powders and liquids. Highlighted check screeners include the Russell Compact Airlock Sieve™– a vibratory sifter for screening incoming ingredients and final production checks on finished powders. Its patented TLI (twist, lock and inflate) airlock clamping system creates a validatable OEL level 5 containment, stopping any dust particles leaking from the sieve. It also allows simple strip down without the need for any tools. DeDust Pro is marketed as an innovative solution for removing fine dust from bulk powder applications.
See the Food & Dry Ingredient Handling page on this company's website.
Types of Food & Dry Ingredient Handling
Dust Collection
Screening & Separating Equipment
Features:
Aseptic

Automatic

Dry process

Hygienic (low-moisture)

Semi-automatic

Skid-mounted

Wet process