Case Packing Equipment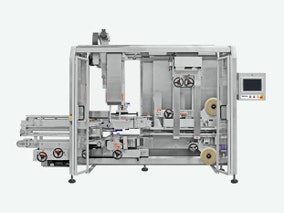 Case packers and tray packers from Serpa are designed to accommodate diverse industries. Just like our cartoning machines, case packer machine line-up features the same balcony design with full walk-in access. In addition, all case and tray packers feature Serpa's Easy Case Clear-Out technology. This important feature easily releases problem cases, maximizing machine uptime. Features on the case and tray packing machinery include: balcony design, innovative technology, semi-automatic and automatic options and precision in each application.
See the Case Packing Equipment page on this company's website.
Types of Case Packing Equipment
Case or Tray Erect/Load/Seal (Integrated)
Case or Tray Erectors & Formers
Case or Tray Loaders
Pad/Partition Inserters/Dispensers
Features:
Adhesive

Auto load

Automatic

Bliss

Bottom load

Corrugated tray

E-commerce

Horizontal/End/Side Load

Manual load

Robotic

Robotic loading

RSC-pre glued

Semi-automatic

Tamper-evident

Tape

Tool-less changeover

Vertical/Top/drop load

Wraparound
Package Types:
Ampoule or Vial

Bag

Bag-in-box for Liquids

Blister for Tablets

Blister Pack (Retail)

Bottle or Jar

Brick Pack (Laminate)

Can or Canister

Carton (Folding)

Carton (Gabletop)

Cartridge

Chub Pack

Clamshell

Cup, Bowl or Tub

Flow Wrap

Overwrap

Portion Pack Cup

Pouch

Sachet

Sleeve

Stand-up Pouch

Stick Pack

Thermoformed Semi-rigid Pack

Thermoformed Vacuum Pack

Tray

Tube (Flexible)

Vacuum Shrink Pack

Vacuum Skin Pack