Food & Beverage Processing Equipment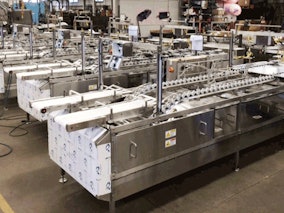 Solbern specializes in folding and rolling equipment for handheld prepared foods, such as burritos, egg rolls, taquitos, wraps, spring rolls, blintzes and other ethnic based products such as samosas. Solbern's filling expertise also expands to the pickle industry, with cutting and packing equipment innovations such as pickle packers, automatic spear packers, spear cutters, Slab Slicer and Filler and related food processing machinery.
See the Food & Beverage Processing Equipment page on this company's website.
Types of Food & Beverage Processing Equipment
Forming & Extruding Equipment
Slicing, Dicing, Cutting & Shredding Equipment
Features:
Dry process

Semi-automatic

Wet