Food & Beverage Processing Equipment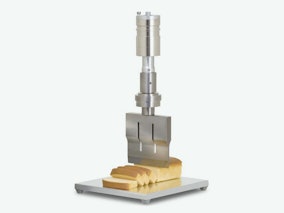 Sonics & Materials offers a complete line of specialized equipment and components for ultrasonic food cutting. Compared to conventional cutters, ultrasonic food cutters are more sanitary, with less down time, better cost-effectiveness and increased consistency at the cutting surface where the blades stay sharp longer. Cutting tools are manufactured in-house by a precision wire EDM process that reduces stress for longer life. Sonics provides full customization of OEM components, kits and knife horns. Typical applications include cheese cutting; cake and dessert product cutting; confectionary product cutting; meat cutting; and sandwich and wrap cutting.
See the Food & Beverage Processing Equipment page on this company's website.
Types of Food & Beverage Processing Equipment
Slicing, Dicing, Cutting & Shredding Equipment