Pre-made Bag Loading & Sealing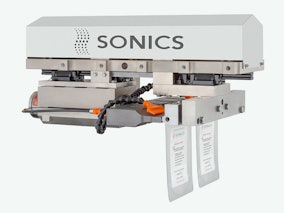 Sonics & Materials is a supplier of ultrasonic pouch sealing systems as well as zipper crushers for standup pouches. Featuring patent-pending technology that increases seal strength while eliminating film stress, ultrasonic poucher sealers are available in mounting configurations that are compatible for most rotary and in-line pouch sealing machines. Sonics' new T201WD and T202WD ultrasonic pouch seal head delivers a cost-effective solution for challenging top seals when there is a possibility of product contamination in the seal area. System features a proven rack and pinion design with dual air cylinders to provide high clamp forces. Ultrasonic zipper crushing modules offer a fast, effective way to enhance hermetic side seals on standup pouches.
See the Pre-made Bag Loading & Sealing page on this company's website.
Types of Pre-made Bag Loading & Sealing
Bag/Pouch Sealing Equipment